Filters
We sell and install the industry's best brands
…and focus on energy efficient pumps and motors, proper sizing, hydraulic efficiency, correct plumbing, and safety when selecting the best equipment fit for your pool. All new equipment quotes are FREE to our service clients. Call today about the new energy efficient pool equipment and save money. We replace your swimming pool systems equipment, including motors, timers, lights, heater, filters, pool pumps, valves, skimmers and main drains including VGB compliant drain covers, automation, automatic pool cleaners, and handrails.
Call us for details and pricing!
---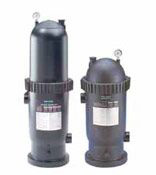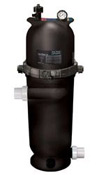 By removing impurities such as dirt, leaves, grass, hair, body oils, sunscreen, and every many bacteria from water, filters keep your pool water clean, clear and inviting.
The Clean & Clear® Cartridge Filter combines top-end filter performance with low maintenance. The dependable design uses special filter elements to strip tiny particles from your pool water.
Filtering with diatomaceious earth (D.E.) gives you water that really sparkles. The FNS® Plus Fiberglass D.E. Filter removes the tiniest of contaminants…particles as small as 5 microns. Even though these particles can't be seen individually, collectively they greatly affect water clarity.
Please call our office for size and pricing. 239-594-8497